A year ago today, Ann was a totally different entrepreneur.
When she started Cookies by Ann she just wanted to bake cookies, but her to-do list didn't quite match.
She was trying frantically to keep all her customers happy, while also juggling the following tasks:
Drafting invoices in Word and mailing them to clients — sometimes twice, when a customer would "forget" to send payment.
Trying out a new invoicing software each week, getting frustrated, and reverting back to a spreadsheet to track her income.
Digging through piles of checks and receipts every month to figure out which clients had paid, and who was overdue.
So let's see. Ann was actually wearing the hats of Client Services, Billing Manager, Systems Manager, and Bookkeeper. Her baking business was staying afloat, but she was working tons of extra hours — yet just making ends meet.
Does this sound like a familiar story?
Fast forward to today: Ann's to-do list is so much shorter, she stops working at 4:58 p.m. every day, worry-free.
She spends most of her workweek doing what she loves — baking — and just a fraction of her time collecting and tracking payments.
What changed in the last year? How did she go from wearing-every-single-hat-to-stay-afloat, to only spending time on the work that makes her happy?
Ann found the new 'Send an Invoice' feature on her online banking dashboard: the only way to collect electronic payments that's plugged right into her checking account.
What happens when clients pay Ann through the invoices she sends — instead of by cash, check, or through credit card processors like PayPal and Square?
Customers can pay from their phone or computer, at whatever time of day is convenient for them.
Payments go right into Ann's checking account, instead of sitting with a third-party application for days on end.
Ann doesn't have to learn a big, clunky new system with a bunch of unnecessary features, just to let her clients pay by credit card.
She pays the lowest transaction fees on the market, compared to PayPal, Square, etc.
When Ann signs into her checking account, she has an instantaneous view of who's paid in full, and who still owes money.
If a customer's payment is late, Ann can send an automatic email reminder — no phone tag, and no printing out another invoice.
And the best part is: the new 'Send an Invoice' feature is ready and waiting for you, too, right inside your checking account. Just log into your account and look for the 'Send an Invoice' button on the dashboard.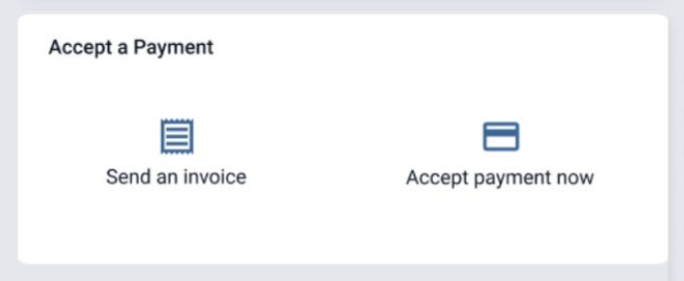 We want to help you wrap up your workday an hour earlier, or maybe even take a day to yourself, just like Ann. So, for a limited time, you can get personal assistance setting up everything you need to send your first invoice. A real, live business consultant will show you around, answer any questions you have, and help you collect your first payment. Don't miss out — click here to schedule your personal setup call today!
Or, you can...