Case Study
Why United Community Bank was recognized as a Model Bank by Celent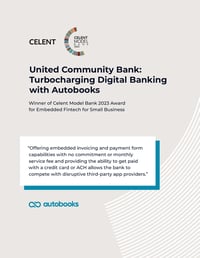 Find out how United Community Bank was able to achieve significant growth with their Autobooks program — garnering a prestigious Celent 2023 Model Bank Award for Embedded Fintech in the process.
About the Guide
In this free guide, find out why United Community Bank, a valued partner of Autobooks, has been chosen by Celent as the winner of their annual Model Bank award for Embedded Fintech for Small Business.
The small business digital engagement model is rapidly expanding from one-dimensional self-service to a prism of value-added services. Ease of self-service has become table stakes, while responding to higher level needs such as better financial decisions and efficient operations is where the competitive game is on. United Community Bank, with its implementation of Autobooks, is excelling at the new game.
Some lessons learned from this winning partnership:
Lesson #1: Power workflow efficiencies
United and its tech partner, Autobooks, realized that competitive differentiation lies in improving small businesses' financial workflow efficiencies, not in delivering siloed products.
Lesson #2: Understand customer journeys
United realized strong adoption because it ensured efficient and intuitive customer journeys from target marketing to enrollment and usage.
Lesson #3: Collaborate at every step
United galvanized internal stakeholders and Autobooks dedicated a team to realize a successful implementation and go-to-market.
Lesson #4: Perpetually push the innovation envelope
United and Autobooks have not rested on their laurels. They continue to engage to innovate and keep up with their customers' changing needs.
---
Want to learn more about why Celent chose United Community Bank as a model bank for 2023? Download the free case study to find out.